Succulentsgrower.com is a participant in the Amazon Services LLC Associates Program, an affiliate advertising program designed to provide a means for sites to earn advertising fees by advertising and linking to Amazon.com. Amazon and the Amazon logo are trademarks of Amazon.com, Inc. or its affiliates.
Many people believe in Feng Shui. If you are one of them, location of your succulent is not a simple choice anymore. Plants are believed to bring luck or prosperity if you locate them in the right places in your home or office. Snake Plant is especially considered as a plant that can bring good luck or good energy to your home or business, if it is positioned in a right location. Let me explain how it works :).
South, southeast, and east is the answer
Generally speaking,  the southeastern, southern, and eastern spots of the house are great for the placement of your succulents. However, for snake plants, their best places are in the house entrance, home office, dining room, bedroom, bathroom, and kitchen. There are many reasons why these places of the house are perfect for snake plants.
Your house has an energy map known as Bagua. These points in the house invite positive energy for luck and success. Placing snake plants in proper places will not only boost the aesthetic feature of your indoor space. It will also attract luck and abundance. And who doesn't need more of that in their life?
* Special buying tip: Check out this amazing Quartz Gemstone Tree Feng Shui Figurine Money Bonsai Good Luck Chakra Balancing Reiki Healing Crystals Decoration on Amazon, if you want to make sure you combine beauty and prosperity in your home!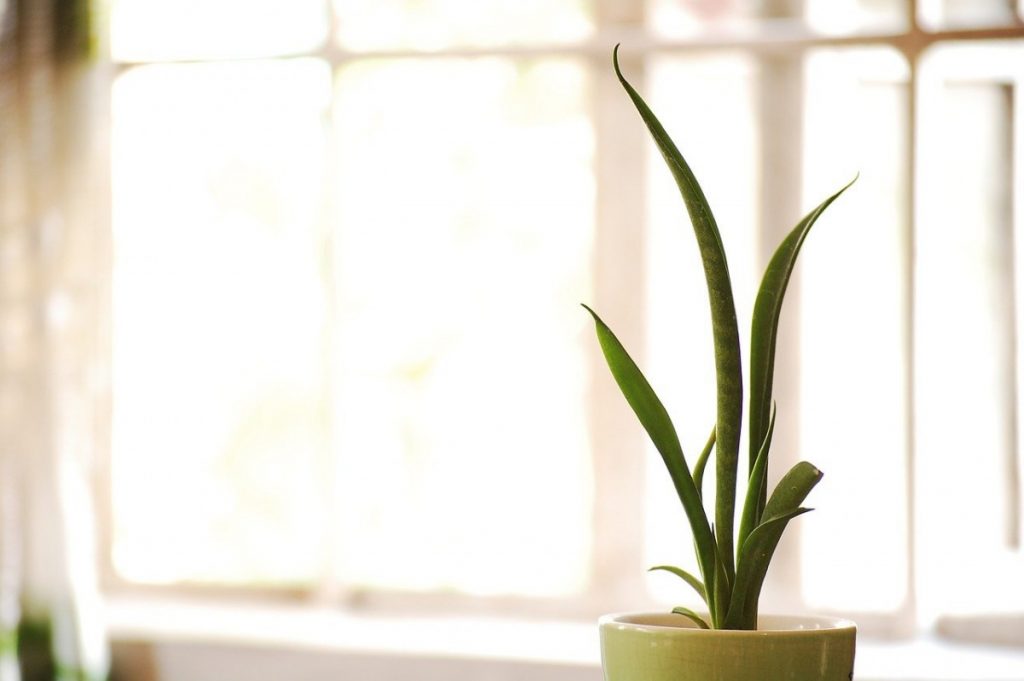 Snake Plans in a home office
Putting one or two snake plants in your office (whether in a corporate environment of back at home) should help you gain focus and concentration, which will in turn help you boost your productivity. Depending on the size of the snake plant, you can place it on top of your desk, on the bookshelf, or on the windowsill.
Placement in living room and physical attractiveness
Another great place for snake plants is the living room. These plants will not only boost the aesthetic value of the space. They will also attract positive energy. It is believed that snake plants in the living room actually improve the physical attractiveness of the people living in the house.
As suggested by the Feng Shui principles, the entry halls windowsill, shelves, and living room tables are perfect places for these lovely succulents.
Snake plant and dining room
According to the Feng Sui placing snake plants in the dining room can bring tremendous wealth. And though it hasn't worked in my case (at least not so far, but who knows, maybe this blog will grow very big over the years and I will get rich–then I have to thank the plants and the Feng Shui teachers), you risk nothing by trying it.
In the worst case possible, the plant will help to purify the air, and you can always look at it and find inspiration in how calm and peaceful it is, perhaps helping to find you your inner peace. Maybe it is even more important than financial wealth?
Special Tip: Check this beautiful ceramic pot for a snake plant on Amazon. The color matches perfectly with the plant, which also plays a vital role in Feng Shui.
Rooms in southeast and east parts of the house, southern rooms
Feng Shui teachers believe that placing snake plants in such areas will help you boost motivation and creativity. If you feel like lacking energy and motivation, you might want to try this technique at home. Just place a couple of snake plants and see what happens.
One more thing I want to stress out here. Fire is one of the key elements of Feng Shui, which is related to courage and ability to make sound judgment. The Feng Shui experts believe that the element is located in the rooms in south area of the house. Therefore, placing snake plants in such an may help you and all the inhabitants develop more courage and better capabilities in making good decisions. Hell, that's something I would need at times! Now I think I will propagate some more snake plants and place some in the southern parts of the house.
However, keep in mind that at least in this case, size matters. Larger snake plants are believed to bring negative energy. That's why you should place in the key areas of the house one-foot long snake plants, or one and half foot maximum. Bigger than that are not suitable.
A few things you should avoid when it comes to the placement of snake plants
As I have already mentioned, it is not always a great idea to place  snake plants indoors, and you need to consider a few things, especially if you believe in energies and stuff. As they right say, it is better to be safe than sorry, and you can always find some good placement. Let me give you a few points you should remember, at least if you want to maximize the potential effect of having a snake plant at home.
1. Avoid artificial snake plants
Artificial snake plants, or the fake ones, should be avoided at all costs. Although fake snake plants do not necessarily bring negative energy, they do not bring positive energy either. What's more, they do not have any benefits real succulents offer to you, such as air purification, good smell, and having a living thing in the midst of material possessions.
Having said that, I have seen many people put fake plants (like this one for example, which looks good and is hard to tell from a real snake plant) inside their houses. And they are still here… If you are a firm believer in the Feng Shui principles, however, you need to choose genuine snake plants instead of fake ones. Keep on mind also the other benefits of real plants, when compared to fake plastic ones.
2. Avoid dying snake plants
Dying snake plants, according to Feng Shui principles may only bring negative energy. The key here is to keep your snake plants healthy. The energy that comes into the house depends on the health of the plants. If you aren't sure how to make sure that your snake plants will thrive, check my complete guide on succulent growing. Thank you!
Final Thoughts
Snake plants, according to Feng Shui, can bring positive energy or luck to your house. However, you need to put them in the right places of your house. Placing them at the entrance of the house, in the home office, dining room, bedroom, kitchen, and bathroom is your best bet.
However, make sure that you only grow healthy snake plants in your house. Dying snake plants can attract negative energy, and we have enough of that in our world, even without plants…
To sum it up, you have many good locations for snake plants, and as long as you follow the tips from this article, you are good to go. And even if it doesn't work and you won't become rich with ten snake plants in your office, at least you have some beautiful succulents in your living place. In my book it is better than nothing :).
May also interest you: My complete guide on succulent growing.