Succulentsgrower.com is a participant in the Amazon Services LLC Associates Program, an affiliate advertising program designed to provide a means for sites to earn advertising fees by advertising and linking to Amazon.com. Amazon and the Amazon logo are trademarks of Amazon.com, Inc. or its affiliates.
Succulents are native to semi-desert and desert areas of Africa, Latin America, and Middle East. One may think that they'd love endless hours of sun, and any protection from it, in a form of a shade cloth for example, is useless. This isn't true at all, for a couple of reasons.
First of all, in their natural habitat many succulents live in a shade of bigger bushes or trees, or amidst the rocks, where sun does not shine an entire day. And secondly, sun in a desert is not the same as the one in US or Europe in summer. Humidity plays a big part here as well. What I try to say here is that while an intense African sun may not hurt a succulent, an intense Texas sun or Miami sun combined with high humidity may harm them.
If you've ever experienced burns on your succulents, or strange unnatural changes in color, the chances are high the sun is simply too strong for them, and it is wise protecting them, at least for a few hours each day, when the sun is the strongest. The most practical way is placing them in a spot where they remain in shade for a part of a day, such as shade of a building, a tree, or a bigger plant. But I know it isn't always possible, and when it isn't, you should get a shade cloth. I've been using some over the years, and will now share with you my top three picks. Let's go!
My first pick: 40% Black 6.5'x10′ Sun Mesh Shade Sunblock Shade UV Resistant Net
What I really like about this cloth is that it doesn't stops all sun from reaching the succulents (or other plants you use it for), but just about 40-50%. It is perfect for succulents, that are still sun-loving plants, just sometimes they get too much sun. I've had burns on my outdoor succulents before, but using this particular shade cloth the problems ceased, and I've experienced the desired results. You can check it on Amazon here.
Biggest Pluses:
Blocks just part of the sunshine, which is perfect for succulents.
Quality material, lightweight but durable at the same time.
Nice design that will fit well in any garden.
Unbeatable reviews on Amazon.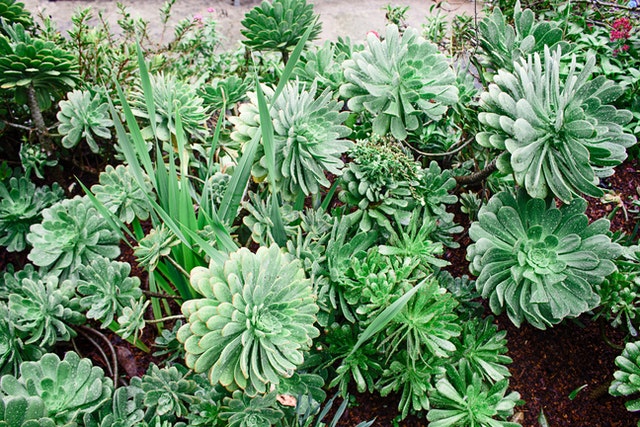 My second pick: JIWINNER 65%-75% Black Sunblock Shade Cloth Taped Edge
I've used this shade cloth just once, but it really met all the promises. It has grommets on every corner edge, and it is super easy to hang it somewhere, for example on supportive poles. This comes handy with bigger succulents, or in a windy location. I've seen shade clothes all over the place after a strong wind, but that's not going to happen with this one, if you set it up properly :). In my opinion, it is also a multi-purpose cloth, since it is really durable. You can use it for succulents, but also for livestock housing, poultry buildings, greenhouses, hoop structures, barns, kennels . Check it out on Amazon here.
Biggest pluses:
Universal use, super durable.
Great for bigger succulents, has grommets on every corner edge.
Surprisingly inexpensive, considering the quality of the material.
Works well for year-round setup, you just erect it once on the right spot and can forget it.
Check the reviews on Amazon.
My third pick: Coolaroo 302245 6X15 90% Uv Wheat Shade, 6′ x 15′
Manufactured of High Density Polyethylene which is knitted instead of woven, allowing heat and humidity to rise through fabric while reducing ambient air temperatures up to 33, this cloth is a perfect choice for sunny and humid areas, such as Florida, Texas, or Northern Spain for example (succulents are super popular in all these locations). It is easy to clean with hose, and you can buy it in different sizes, so it fits your needs perfectly. I've never used this cloth personally but my neighbor (who's growing even more succulents than I do) uses it, and she is extremely satisfied. You can get it on Amazon here.
Biggest pluses:
Great for hot and humid areas, since the fabric allows heat and humidity to rise through it.
Much easier to clean than traditional woven shade clothes (you just take a hose and splash it with water).
Provides up to 90% UV block, hence it works well for succulents that prefer indirect sunlight.
Nice design and good price considering the quality of the material.
Check reviews on Amazon.
Final thoughts
Shade clothes for succulents come in many different shapes and forms. It is important to understand what you are looking for, what your succulents need, and also what you can afford to buy, especially if you grow succulents commercially and costs add up quickly with the number of clothes you have to buy. At the same time, however, this is not rocket science, and I hope that with my choice of three shade cloths (of different types and uses), I made your decision easier. Do not hesitate to contact me for more information, and good luck with your succulents!
Matthew
May also interest you: How to acclimate succulents to full sun?