Succulentsgrower.com is a participant in the Amazon Services LLC Associates Program, an affiliate advertising program designed to provide a means for sites to earn advertising fees by advertising and linking to Amazon.com. Amazon and the Amazon logo are trademarks of Amazon.com, Inc. or its affiliates.
One of the things I love about succulents is how easy they are to propagate. You can buy one plant and create an entire garden, or you can simply propagate your favorite succulent that has been infected with some pests or suffers from root rot (and in this way save the plant). Some succulents are easy to propagate from stems, other from leaves, and you can even propagate some from seeds. It really depends on the type of succulent. And while the process isn't difficult (you can check my guide for Jade Plant here), the most tricky part is the growth of new roots on the cutting. That's were rooting hormones enter the picture.
Rooting hormones are chemical substances that promote root growth on cuttings of any plants. It isn't important for us to understand what exactly happens (from biological or chemical point of view). The basic principle is that the chemical reacts with the cuttings making it think the conditions for root formation are favorable, and hence some roots will form. 90% of all rooting hormones come in a form of powder, and they are super easy to use. You just dive the bottom part of the cutting into the powder (half inch), and then place it in a moist soil or other planting medium, and wait for the magic to happen.
Rooting hormone for succulents will accelerate the process and help with the success rate
Before we look at my top three picks of best rooting hormones for succulents, I want to make some thing clear. First of all, you do not necessarily need rooting hormone to propagate succulents. Experienced growers (who gained their experience partly by learning from their own failures) can propagate common succulents (think aloe, echeveria, sedum, etc) without using any chemicals. If you lack experience, however, or you didn't succeed with your attempts without hormones (for any reason), or try to propagate a rare succulent, you should give them a shot.
Rooting hormones do accelerate the process of root formation as well, so if you want to propagate succulents quickly or even do this for commercial reasons, it definitely makes sense applying them. Having said that, if you face no deadlines, I would suggest you to try propagating your succulents without rooting hormones first. Only when you do not succeed should you look for synthetic chemicals to help you.
Bonide BND925 – Bontone II Rooting Powder as my no.1 pick for succulent rooting hormones
I have tried this product with several succulents, including those I originally found harder to propagate in my location, such as Christmas Cactus or String of Pearls. It produced great effect, reduced the root formation time to half, and I can only recommend it. You can get it on Amazon here. What I really like about this rooting hormone is how easy it is to use, and that you can use it with variety of plants (not only succulents).
Biggest pluses:
Reduces the time of root formation to half.
Good price for the quantity and quality.
Works also on bulbs and seeds, so you can use regardless of your favorite succulent propagation method.
Ships to almost all countries of the world.
Hormex Vitamin B1 Rooting Hormone Concentrate as my no.2 pick for rooting hormone for succulents
The second pick is actually liquid, which allows for a different use (you can even use it on cuttings that you already planted in the soil, like a "fertilizer of root growth"). I've done some experiments with this product in the past, and especially liked it when I tried to propagate succulents in hydroponic medium, which will be hard to do with rooting hormone in powder. The price is also excellent, considering how many gallons you can make from one bottle. Check more details on Amazon here.
Biggest pluses:
Super universal, for all plants and growth mediums.
Best price considering the quantity of product.
Includes vitamin B, which promotes healthy growth in plants.
Recommended by other succulent growers.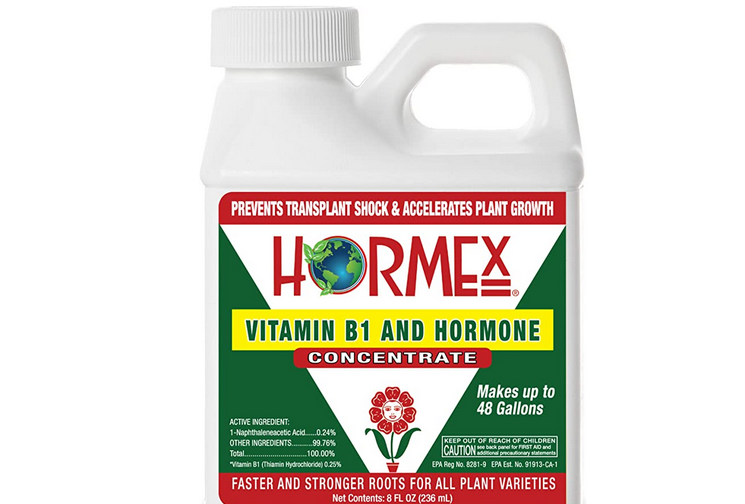 Garden Safe Brand TakeRoot Rooting Hormone – my no. 3 pick for best rooting hormones for succulents
First of all, I really like the Garden Safe brand, and have only best experiences with their products. From the mainstream and most popular products, this one can be considered the most natural one, since the Indole-3-butyric acid is similar to the root hormone that naturally occurs in plants. Of course, this is still a synthetic chemical, but you can say it is slightly "less chemical" than the other two products I recommend. It also has over 20,000 positive reviews on Amazon, which isn't an easy feat to achieve for any product in gardening niche. So many customers cannot be wrong, and you can get this product here.
Biggest pluses
Fantastic reviews from tens of thousands of gardeners, including succulent growers.
Reputable "Garden Safe" brand, a brand that always tries to make their products more natural.
It is especially intended for propagation from cuttings, which is the no. 1 propagation method for succulents.
Great price vs quality ratio.
Final thoughts
You can find countless products in this category online, on the pages of biggest retail stores. The key is to look for reputable brands and products with a lot of positive reviews from succulent growers. I hope I helped you make this selection at least a bit easier! Always remember that you should minimize the use of chemicals in both your garden and home. Try to go for more natural rooting hormones, and apply them in moderate quantities. Only if it doesn't work should you opt for more aggressive products. Hope it helps, and good luck with your succulent propagation!
May also interest you: How to propagate succulents with honey.