Succulentsgrower.com is a participant in the Amazon Services LLC Associates Program, an affiliate advertising program designed to provide a means for sites to earn advertising fees by advertising and linking to Amazon.com. Amazon and the Amazon logo are trademarks of Amazon.com, Inc. or its affiliates.
If we should pick the most famous succulent plant on the planet, Aloe Vera must be the one. Famous as a medicinal plant, and a part of many drinks and skin care products, many people forget that Aloe Vera is also a beautiful succulent, which can bring harmony, luck, or at least good vibes to your home, as long as you follow the ancient Chinese traditional practice of Feng Shui. Aloe is native to Arabian Peninsula, Africa and Madagascar, but traders brought it to China many centuries ago. This succulent certainly has a place in Feng Shui, and now we will look at the right place in your home :).
Before we start though, I want to emphasize one thing: You should always keep on your mind the needs of the plant. Regardless of what location you'd prefer for your Aloe, or what Feng Shui suggests, you should always place an Aloe in a place with bright indirect sunlight, such as windowsill or shelf near a window that gets a lot of light. Remember that only healthy plants can bring good things to your home and life. The key is to place your Aloe to a location where it can thrive, and not merely survive…
According to Feng Shui, Aloe Vera can bring luck to your house, and absorb negative energy in its thick leaves
Before we look at the suggested placement, let's discuss the basics a bit, and what Feng Shui says about Aloe Vera. According to this ancient Chinese practice, Aloe Vera is an excellent place to have at home, since it absorbs negative vibes and energy to its thick leaves. Some people actually believe that Aloes may die and their leaves burst open, if they are in a household where negative energy reins for a long time, and they cannot absorb it anymore.
On the top of that, the plant is considered a good-luck plant, and one that (with its beauty and natural harmony) can bring harmony to your relationships, and optimism to your living space. Combine it with health benefits of the plant, and a great look of a healthy Aloe, and you immediately know why this plant is such a crowd favorite.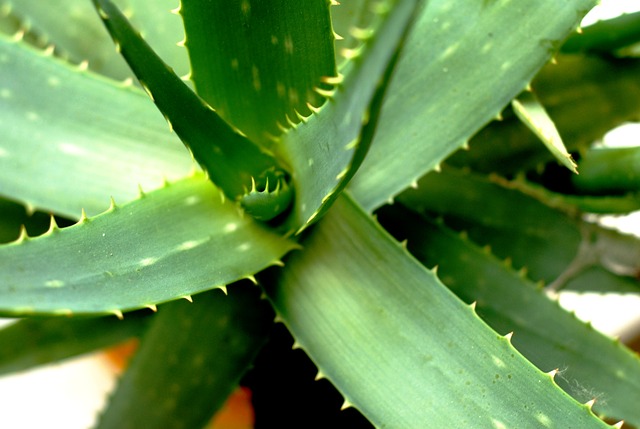 Place your Aloe Vera in a living room or kitchen
Considering the benefits the presence of Aloe has on people in the house, and on relationships between them, you should place it in a room where people meet, and spend time together. In most households this will be a living room or a kitchen (where we eat together). In both of these places you should make sure it gets enough indirect sunlight (you can use a grow light as well, but why spending money and energy when your Aloe can get light from the sun).
It is also important to consider the color combinations, and how it fits with other plants an objects in the room. Green like the one of Aloe goes well with brown (just like in nature), but also with white and black. You can also keep this on your mind when choosing a pot for your Aloe. At the end of the day, Aloe Vera can fit into the surroundings, but it can be also a central point of attention, standing out with color and design in your living room. It really depends on the effect you want to create, but according to Feng Shui, it is better if it fits with other objects in the room. It shouldn't stick out.
Avoid placing your Aloe Vera to the bathroom, or to the corridor with no light
Bathroom isn't a good place for Aloe Vera, not only because bathrooms often have small windows or no windows, and Aloe just won't get enough light there (and will die eventually), but also because the humidity is often too high for Aloe, and it won't thrive in bathrooms. What's more, this placement isn't recommended in Feng Shui.
Entrance hall or corridor of your house is another story. Feng Shui suggests placing different succulents there, because every person entering the house passes through the hall, and hence such a placement can maximize the benefits the plant brings to the house and to people inside of it. However, most halls have no windows, and your Aloe Vera will not thrive in such location. Having said, you can use a workaround here. Move your Aloe to some sunny spot in the house in the morning, and then move it to the entrance hall in the afternoon, the time when you receive guests and other members of the household come home. Following this scenario, your Aloe will be happy, and you will reap the maximal benefits when it comes to the positive vibes it can bring to your relationships.
Aloe can help us, but it won't solve our problems alone
Even if you follow the instructions of Feng Shui to the point, or perhaps buy ten Aloes and place them around the house, it won't alone turnaround a bad situation or negative energy you face in your family (if that's the case). No doubt there is some truth to Feng Shui (just as it is to Tao, and other old Chinese philosophies). But you should not rely on plants to solve your problems.
They can help, they certainly purify the air, and can make your home more harmonious in appearance. But the key is to always work on yourself, and do what you can to maintain good relationships with people around you. Do not rely on Aloes or other plants. Accept the responsibility, and admit making mistakes. That's the only way to move forward in your relationships…
May also interest you: