Succulentsgrower.com is a participant in the Amazon Services LLC Associates Program, an affiliate advertising program designed to provide a means for sites to earn advertising fees by advertising and linking to Amazon.com. Amazon and the Amazon logo are trademarks of Amazon.com, Inc. or its affiliates.
If you are growing sedum at home, it is important to know whether this plant is safe for pets. In this post I will share with you everything you need to know when considering whether you should grow sedum, and if you do, whether you should place it somewhere your pets cannot reach it.
And let me start directly with the good news: Sedum succulents are not poisonous to dogs and other pets. Sedum plants usually have bitter and peppery flavors making them unlikable food for dogs and other pets. So even if the pets (for some strange reason) wanted to give your plants a try (instead of eating this great plant-based dog food you can get on Amazon, should you be into the vegan diet for yourself and your pet), they would immediately dislike the taste and won't eat them. To make it clear, all 600 succulent varieties belonging to the sedum family are non-toxic to pets and humans. There is nothing to worry about.
Is Sedum poisonous for small children?
If you have kids, choosing the right plants is critical, since no doubt safety of your children is the first priority, and it matters much more than the safety of your plants, or whether you grow them at all.
Good news is that you do not have to worry about the safety of your kids, because sedum succulent plants aren't toxic, even to little children. What's more, the bitter taste of sedum will quickly discourage the child from eating the plant. Children explore the world in their own means, and they may be tempted to try and bite one of the leaves. I can assure you though that once they do so, they will quickly stop and leave the plant as it is.
However, it doesn't mean that the plant cannot fall on kids, or that they cannot destroy it. In my opinion, the best thing you can do is to make sure that kids cannot reach the leaves or stems of the plants. Hanging planters (click on it to see my favorite choices on Amazon) can be a great idea.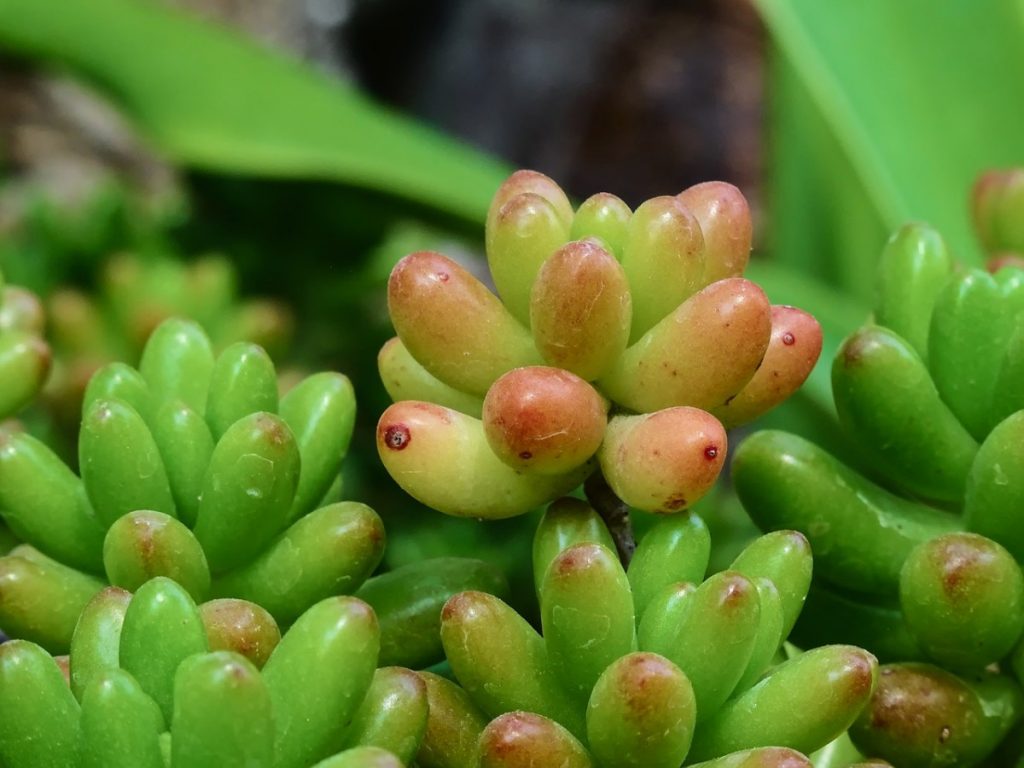 Are Sedums poisonous to cats?
I often receive this question from my readers & followers of this blog, since some of them have several cats at home, and they love them more than they do their plants. The good news is that sedum plants are non-toxic to cats as well. If you have cats and succulents at home, do not worry. Your beloved pets are completely safe in this case.
It is important to remember though that not all succulent plants are safe for animals and humans. If you are interested to know more about non-toxic and toxic succulents, you can see my complete list here.
Although sedums are non-toxic to dogs and other pets, there are instances when pets accidentally swallowed toxic succulents or plants. If this happens, do not hesitate to consult your pets with a veterinarian.
Symptoms of Poisoning
There are many symptoms of poisoning you might notice with your dogs or other pets. The most common ones are vomiting, diarrhea, tremors or seizures, and stomach upset. If your vet has no idea what plant might have caused the poisoning, you can contact the following experts to help with the clarification of the issue:
ASPCA Animal Poison Control Center – (888) 426-4435
Pet Poison Helpline – (855) 764-7661
Final Thoughts
If you have pets and plants at home, your main concern is whether the plants are safe for your pets. Succulents are some of the common indoor plants that are grown indoors nowadays. Not all succulents are safe for pets and humans. Some of them have poisonous substances, and curious pets may come to harm. Luckily though, sedum succulents are safe for dogs, other pets, and humans, including little children.
However, for safety purposes, it is the best idea to keep all your plants away from your pets and kids. Prevention is still better than cure, and at the end of the day, you also do not want to see your dog (or a child) destroying one of your succulents. If you see some symptoms of poisoning, consult a licensed veterinarian in your area. I hope this helps. Thank you very much for reading, and make sure to check also the following posts: