Succulentsgrower.com is a participant in the Amazon Services LLC Associates Program, an affiliate advertising program designed to provide a means for sites to earn advertising fees by advertising and linking to Amazon.com. Amazon and the Amazon logo are trademarks of Amazon.com, Inc. or its affiliates.
It takes a lot of effort, and some knowledge, to make sure your succulents will thrive. One has to consider a variety of things to minimize the chance of a failure failure. After all, you are growing a living organism, and each living organism has some specific needs, something it desires. Whether you are a newbie to succulent growing, or a veteran in this "craft", it is important to stay up to date with newest trends and information in the field. Now we will talk about whether you can use a bowl–yes, any bowl, as a planter for your succulents.
Let me start with a quick answer: Based on my personal experience, you can definitely use a bowl as a planter. Just make sure that you're using the right bowl for your succulents. And that's when the question becomes more complicated, since choosing the right bowl requires an understanding of several things, including the location where you place the plants, climate, and sometimes also your budget. Let's have a look at that right now.
Best material for the bowl as a planter for succulents
For growing small succulents, normally I use ceramics, terracotta, plastics, wood, metal, and concrete. Simply because of their durability and ability to be molded into varying sizes, depths and shapes. Let's have a look at some of the choices, their pluses and minuses.
Ceramic bowl planters
Ceramic bowl planters (click here to see my favorite planter on Amazon) are in between glass and clay. It is actually made of a special kind of clay processed in a certain degree of heat. Ceramic bowls are ideal for indoor spaces for their wide variety of patterns, shapes, and colors. You don't have to buy a new bowl though. You may go with a food bowl if you have one you do not use anymore, or if someone lived with you but left, and suddenly you have more bowls than people in the house.
Terracotta bowl planters
Terracotta bowl planters (click here to see the best one on Amazon) are basically made of clay. These are the reddish-brown planters that are popular among gardeners because of their affordability and availability. They come in various sizes and shapes and can be custom made–which of course takes the price tag much higher… However, since it is made from clay, it is less durable than ceramics, especially in cold weather. It may easily break eventually especially when handled poorly.
Plastic bowl planters
Plastic bowl planters (click here to see my favorite one on Amazon) made of plastics are by far the cheapest of all. It is commercially made and comes in a wide variety of shapes, depths, and sizes. It may not be the real deal for growers but it is practical for starters due to its durability, affordability, and availability in the market.
You may also choose to use those ones that are designed to mimic the appearance of a terracotta bowl if it suits your taste. Sure plastic that mimics terracotta remains a plastic, but at least it looks a bit better!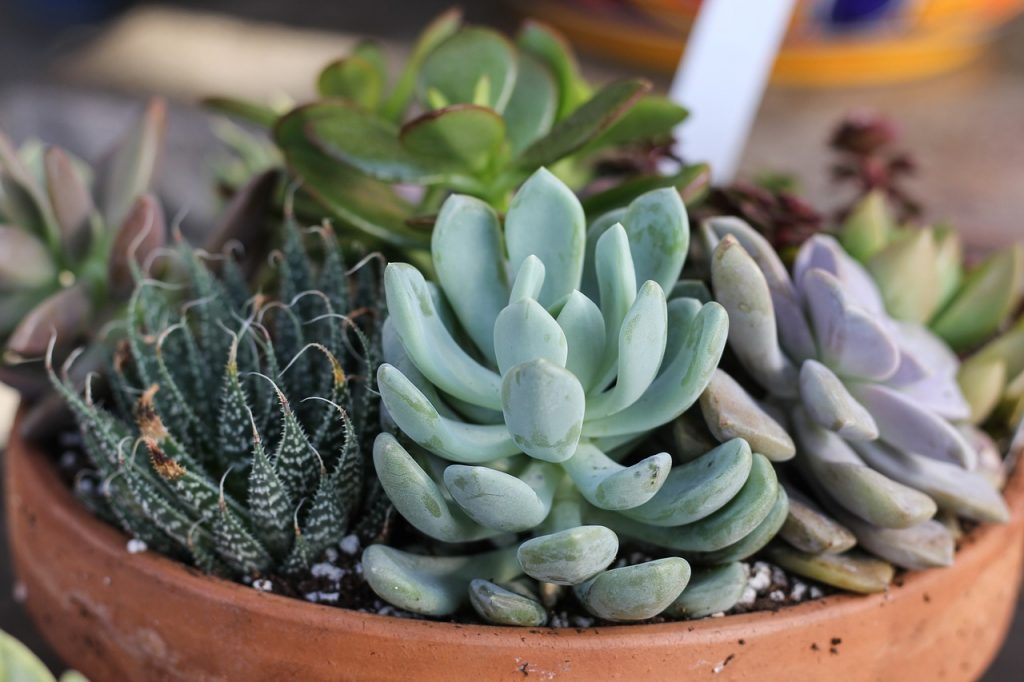 Wood bowl planters
Wooden bowl planters (click here to see my choice on Amazon) are, personally, the ones that look good for my succulents. Making a wooden bowl is a long process that sometimes requires machines to carve it into bowl shapes. Unlike bowls from clay, they have a natural look and can sustain any weather.
These planters are pretty expensive because of the long process that it takes to be a bowl but still, its look is definitely worth it to be kept whether in or outside the house. Just a tip, old wooden bowls just like the ones used for making salads are great for this purpose as well!
Metal bowl planters
The most durable planters are the ones that made of metals (click here to see my chosen planter on Amazon). They can be made of steel, iron, copper and the likes. The most common one is made of aluminum or stainless-steel which are lightweight and do not produce rust like other metals do–which can be a problem if you have the pot outside.
This makes them very durable and long-lasting. As you know, metals are malleable and this is the reason why metal bowls also have varying designs and sizes. Just like ceramics, they also can be coated with the paint depending on the style or pattern you want.
Concrete bowl planters
The last kind of bowl planter that I want to share is made of concrete (click here to see my favorite on Amazon). It is durable and heavy, ideal for many plants but it is not practical if you always rearrange your garden and plant locations. But it is best for protecting your plants, especially in cold weather. It is a good insulator for their roots and sturdy enough to protect it from a strong wind.
My caveat, however, is that do not expose your succulents in the concrete planter under direct sunlight. The heat may stay on the concrete thus affecting the soil and the plants. Depending on your plant's necessities and, you may choose from these bowls. Just don't forget that bowls usually have no holes for drainage, because they are essentially made for indoors. But still, you can drill holes in them. Remember that a drainage hole is super important for successful succulent growing.
Consider how often you'll move the plants around, and also whether you'll keep them on the sun
Concrete, terracotta and wooden bowls allow water and air to enter its pores, unlike ceramics, metals, and glass. The excess water may result into root rotting. In addition, succulents absorb water vapor from the air which makes a nonporous bowl far from ideal for the plants, because it lessens the air that can pass through.
Bowl planters have different characteristics depending on the material. A glass bowl for example can be easily broken. But of course, glass bowl planters have corresponding beauty that you cannot see in other planters. Using bowl planters allows you to incorporate with wood, pebbles, soil, sand, charcoal, and moss if you want to. Pebbles are really helpful and may act as a drainage space to handle water at the bottom of the bowl–should you decide avoid drilling holes into the bottom of it :).
Final thoughts
Bowl planters are good for succulents, but before you choose one, consider the climate, season, your geographical location, the environment, whether you'll often move the plants, etc. Once you know these things, it should be easy to pick the best bowl from my selection (or from some other website). Thank you for reading, and do not forget to read my complete guide on succulent growing.