Succulents are not only great plants for regular pots. They can also be the great plants for hanging pots. But of course, not all succulents perfectly thrive in hanging containers.
What are the best succulents for hanging pots? Although there are many succulents for hanging pots, I will only share seven in this post.
Here are some of the best succulent for hanging pots.
1. Donkey's Tail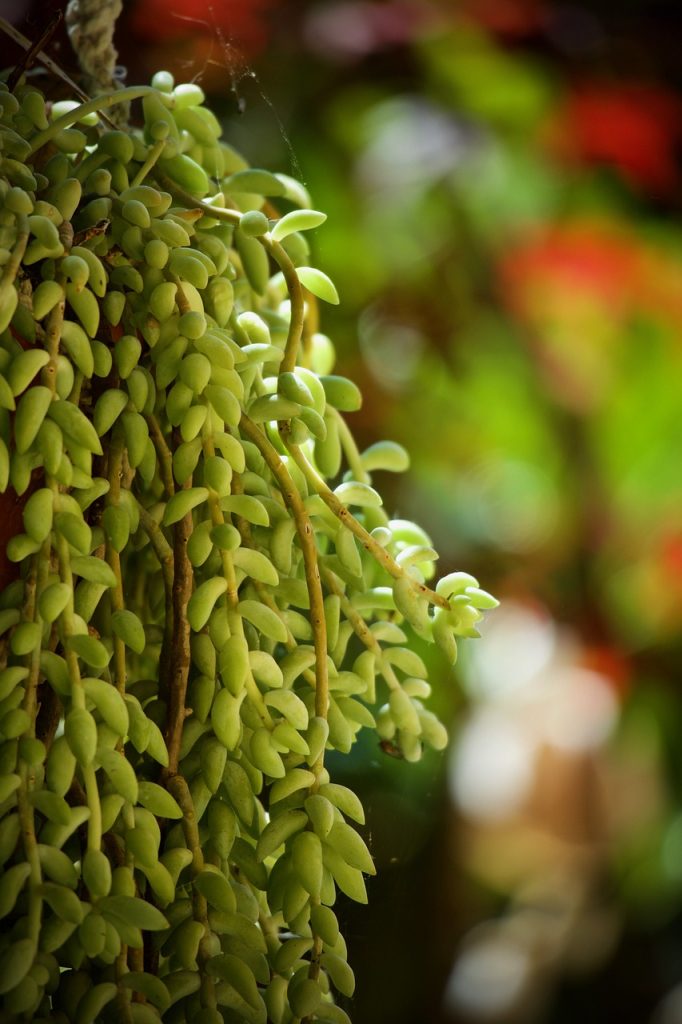 Donkey's Tail is known as the Sedum morganianum. There is no question that this succulent is one of the unusual and prettiest succulents you can have in your garden.
Unlike other succulents that stay small, Donkey's Tail has stems that cascade all over the edges of the basket. It has a beautiful light green color that brings aesthetic value to the place.
The best thing about this succulent is that it is very easy to propagate.
2. Kenya Hyacinth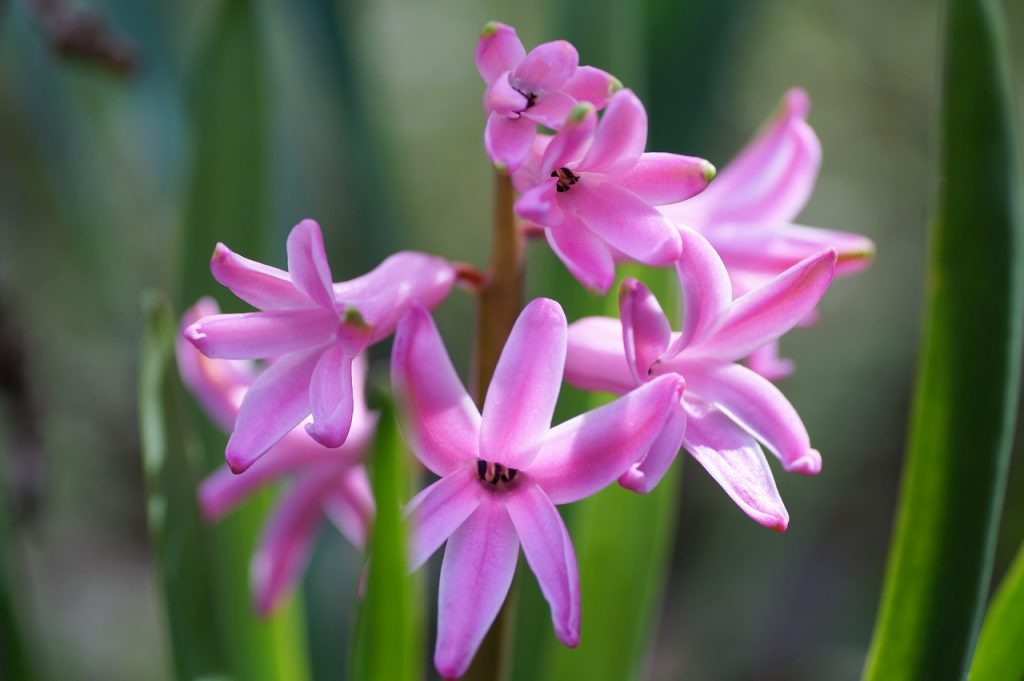 Kenya Hyacinth is also known as Sansevieria parva. It usually has a bright green foliage. It produces pinkish-white flowers.
This succulent has reflexing leaves that can grow up to 16 inches long and 1 inch wide. Incredibly, this hanging succulent grows upright in the beginning. Then, later on, develop into succulent with long leaves.
3. Burro's Tail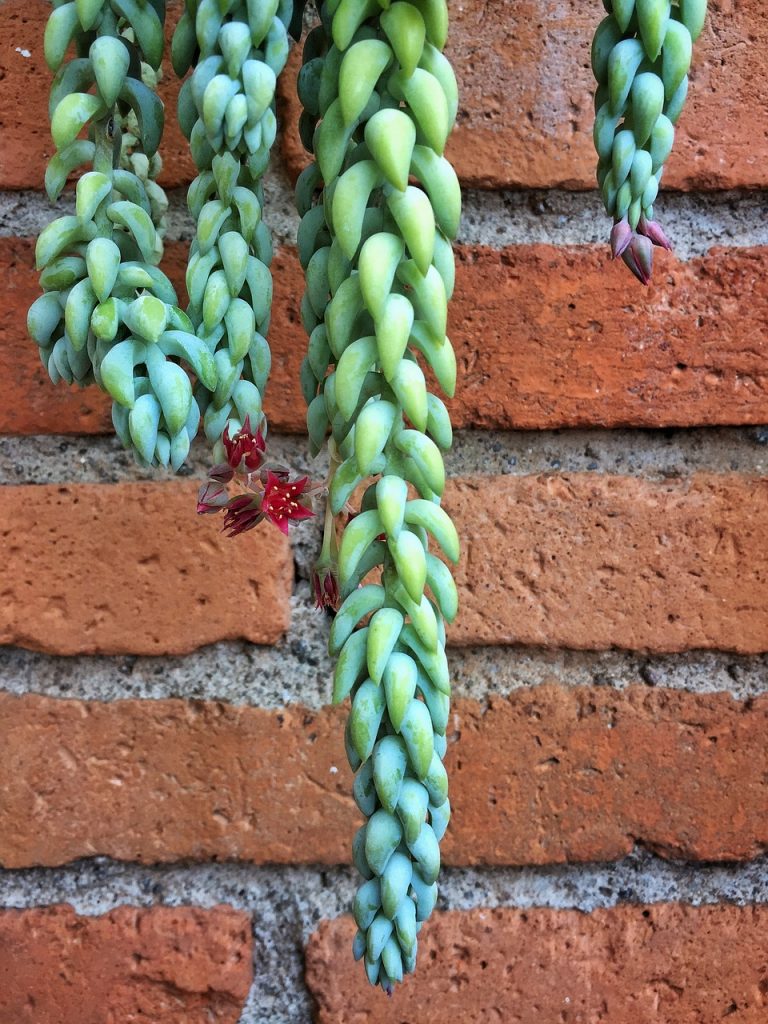 This succulent is similar to Sedum morganianum that has cascading stems. It has blue-green leaves. Its similarity with S. morganianum causes speculations that this succulent is a hybrid of the latter type.
Like S. morganianum, the Burro's Tail is one of the best succulents for hanging pots. The tail trails down the pot. Its perfect place is the hanging planter that allows the plant to cascade freely.
4. Little Pickles
The Little Pickles is also known as the Othonna capensis. Like other succulents in this list, this plant has trailing stems. They can reach up to several feet if allowed to grow freely.
You can grow this hanging succulent very easily. The Little Pickles produce pretty yellow blooms. However, the flower needs sunshine to open up.
5. String of Hearts
A string of Hearts is also known as the Rosary Vine. This is another great succulent for hanging pots. The pendulous long stems that trail down throughout the edges of the pots make the place looks even more stunning.
The leaves of this succulent are heart-shaped where its name is derived from. Because it is easy to propagate, many gardeners love to have it in their hanging garden.
6. String of Pearls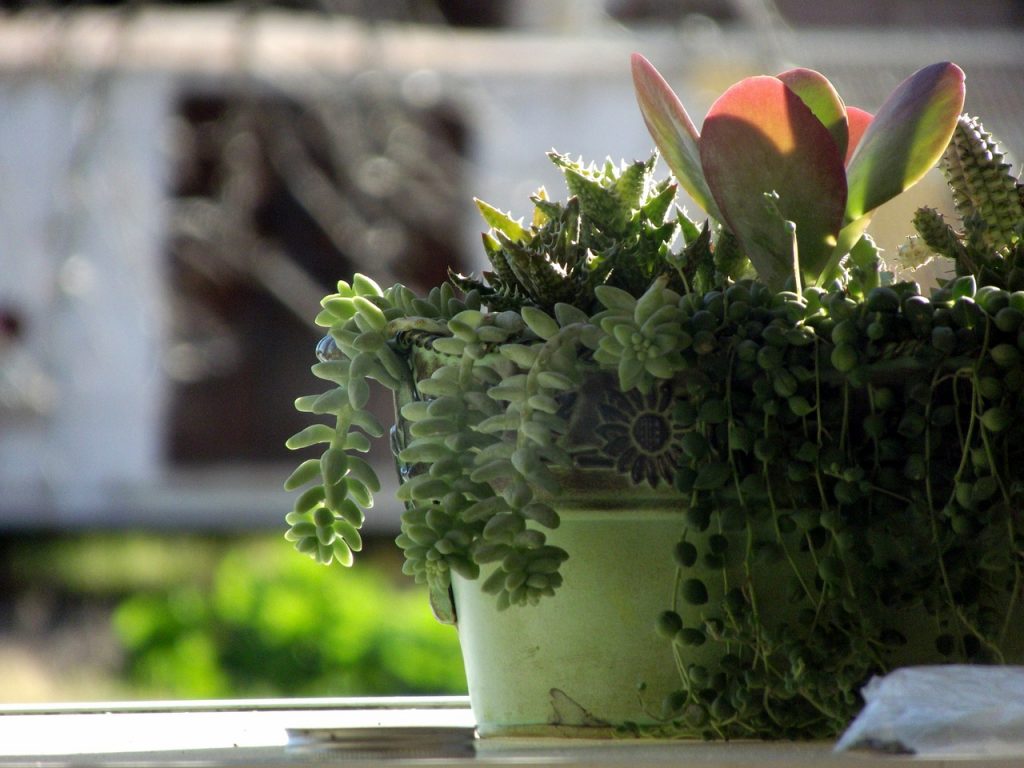 The String of Pearls is also called the Curio rowleyanus. It looks like a beaded necklace with a green pea-like foliage. One of the best succulents for hanging pots.
7. String of Nickels
Dischidia nummularia is it's another name. This cascading succulent entices the eyes of the observers. It is hard not to take a look at this very beautiful plant.
It produces round and gray-green leaves that are flat. The feature is similar to a string of nickels that is loose trails several inches in length.
Of course, this is not the complete list of hanging succulents. There are plenty of varieties out there you can have for your indoor or outdoor garden. The seven kinds I included in this post are just my personal favorite.
What I love about these succulents is the fact that they are easy to cultivate. They require minimal effort as long as you provide them with the right foundation.
Unlike the succulents in the regular pots, hanging succulents may need hanging containers to allow them to grow as they should.
In this post, I will be sharing with you some of my favorite planters for hanging succulents.
Best hanging planters for succulents
As mentioned, hanging succulents need hanging planters to allow them to grow freely. There are hundreds of planters in this category. However, I will only share my favorite ones.
Disclaimer: The recommended products below contain Amazon affiliate links. This means that if you click the link and buy the item on Amazon, I will earn a little commission at no extra cost to you.
What I love about this planter are its modern design features. At first glance, you know that you are having a quality product. This is one of my favorite hanging planters for my hanging succulents.
With this planter, you can easily move succulents from one spot to another. This is perfect if you have indoor and outdoor garden spaces.
I use my Macrame Plant Hanger for my indoor hanging succulents. The color of the plant seamlessly goes with the color of the modern planter. This planter is easy to deploy outside during summer so that the plants can enjoy the sunlight.
Salient Planter Features:
An elegant succulent planter that boosts the indoor and outdoor ambiance
Its simplicity is perfect for balcony garden too
Durable and strong
Made of cotton and wooden beads that make it lightweight
Can be hung from the ceiling or against the wall
This planter is perfect not only for trailing succulents but also for other plants with similar characteristics
Affordable
Another favorite of mine is the 4-Tier Hanging Plant Holder. This planter is made of ceramic material. It comes with a cord and predrilled holes so you don't need to worry about overwatering.
This planter can be easily hung from a hook from the ceiling or against the wall. What I like the most about this plant holder is its modern color that adds to the aesthetic feature of the plant and place.
Its simplicity and minimalistic design make it perfect for home and outdoor décor. Easy to move from one place to another without hassle.
Salient Planter Features:
Simple but elegant
Has minimalistic design
With smooth and round pots that add to the beauty of the space
Can easily be hung from the ceiling or against the wall
Perfect for trailing succulents and other ornamental plants
Easy to install hanging planter
Lightweight but durable succulent planter
Perfect for indoor and outdoor garden
Affordable
My last recommended hanging planter for succulents is the Keter Hanging Planter Set. What enticed me to buy this planter is the design and the mechanism that drains the excess water quickly.
This planter has little holes in the side that serve as the exit point of water. Thus, you don't have to worry about overwatering your indoor plants.
You can use this planter for your indoor and outdoor garden. The color of the planter boosts the beauty of the surroundings.
Salient Planter Features:
Has a simple yet elegant design
A great addition to indoor and outdoor décor
Can easily be hung from the ceiling or against the wall
Has a mechanism that drains excess water
Affordable
How do you care for hanging succulents?
Succulents in hanging pots may have special needs compared to usual succulents. The following are the things you need to remember when planting hanging succulents.
Type of soil
Hanging succulents need moist soil. If you are using fast-draining soil, you need to monitor the moisture every now and then. Depending on the season or climate in your location, watering may be more frequent. But always check the moisture in the soil before watering to keep the plant safe.
Fill the hanging pot with the same kind of plant
When planting hanging succulents, it is the best practice to fill the pot with the same type of succulents. This is not only to maximize the space but also make sure that the succulents cascade over the edges of the pot.
How to propagate succulents for hanging pots?
One of the best things about succulents for hanging pots is that they are easy to propagate and grow. It only requires minimal effort.
You just need a few pruning and propagation tools. The following are the basic tools you need:
Cuttings
Obviously, the propagation process requires cuttings. You can choose your preferred cutting length. For me, I like stems that are 10 inches long.
Container pot
You can use any of your favorite pots for propagation. Again, this depends on your preference. You can improvise and recycle.
Succulent soil mix
Make sure that you use a succulent or cactus mix. Succulent and the cactus mix is made to provide a fast-draining system especially for hanging succulents. You can make your own or order it from online sellers. The succulent soil mix (check this soil mix on Amazon) that I'm using is from Amazon.
You can make your own soil mix if you want to. I have an article that outlines the process of making the perfect succulent mix. You can follow the steps.
Chopstick or popsicle stick
You can use either of the two. These tools will be used to make holes in the soil where the stems will be inserted later on. You can use other alternative tools too.
Steps to propagate succulents in hanging pots
Once the succulents are fully grown, they are ready to be propagated.
Step 1:
Cut the desired stem using a sharp and clean cutting too. The cutting tool that I'm using is the Fiskars clippers (click here to check this cutting tool on Amazon). The length of the stem depends on your personal preference. Then, peel off the bottom of the leaves. Let the peeled part to heal for several days. In a hotter location, this will only take for about one day.
Step 2:
Once the peeled part of the stem has healed, you can now prepare the succulent soil mix. Put the soil in the pot where the stem will be propagated. It is important to remember that only a succulent mix works well in this process.
Step 3:
Now, using the chopstick or a popsicle stick, make a hole in the soil mix. Then, stick the cuttings into the hole. Fill the space around the bottom of the stem with the soil.
Step 4:
Expose the cuttings under the light. Let the soil dries within a couple of days. Then apply the soak and dry method. This means that when watering, make sure the soil is wet all over then only water again if the soil is completely dry.
There are two threats that you should be aware of; overwatering and underwatering. Too much water and too little of it can harm the hanging plants.
However, if you are using the right soil mix, the right hanging pot, and you constantly monitor your plants, you'll have a successful succulent garden.
I hope that this post will help you grow your best succulents for hanging pots. If you want to learn how to care succulents, you can read my detailed guide on How to Grow Succulents? The Complete Guide. It is a free resource. Happy growing succulent!